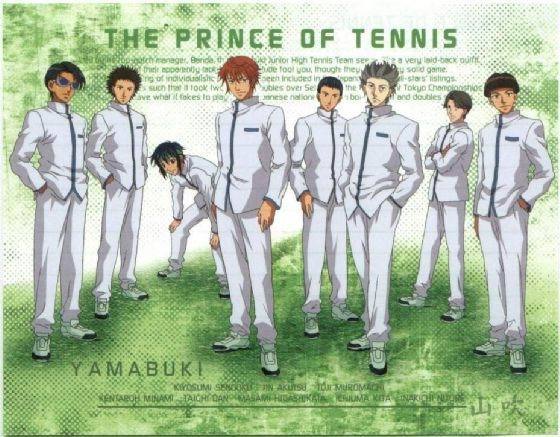 Yamabuki Middle School (私立山吹中学校 Shiritsu Yamabuki Chūgakkō) is a national caliber team that bases their strategy on two National caliber doubles teams, supported by the National caliber Singles player Sengoku. They try to use those three weapons to defeat opponents before the matches get drawn out. When their strategy was foiled in the previous year by Seigaku's Tezuka defeating Sengoku, they recruited a second dominant singles player Jin Akutsu, with the aim to eliminate that weakness. Yamabuki's regular sports uniforms are green jackets with yellow stripes with hoods, shirts of the same design, white shorts, and green warm-up pants.
Information
Established: 1934
History
Despite a five-star doubles lineup, Yamabuki has their work cut out for them this year. Last year, they managed to blank most of their opponents by banking on the star power of Jr. Senbatsu Sengoku Kiyosumi and two National-level doubles pairs. Unfortunately, both Kiyosumi and the Jimmies have been vulnerable this season, thus rendering their strategy of collecting their victories through the first three wins ineffective. With their final trump card Akutsu Jin out of the picture, Yamabuki's singles lineup became a liability. After losing to Fudomine during the second round of the Kantō Tournament, Yamabuki won one of the two consolation spots to secure a ticket to the Nationals. Unfortunately, Yamabuki was unsuccessful in filling the void created by Akutsu's absence and was eliminated in the second round of the Nationals.
Tennis Team Members
Coach
3rd Years
2nd Years
1st Years
Who is your favorite Yamabuki member?