Smash Hit is a video game made for the Prince of Tennis franchise.
Description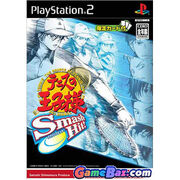 Sports game based on the tennis-themed manga of the same name. Released in July 2003 in two variations, a standard and a limited edition containing special collectible trading cards. Since it's made for the Prince of Tennis franchise it is a tennis game. Smash Hit includes most of the players' specials moves up until the end of the Kantou tournament, so any moves introduced after are not included in the game.
Smash Hit 2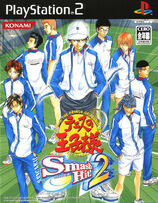 Original Name: テニスの王子様 Smash Hit 2 (コナミ殿堂セレクション)
Release Date: Jun 29, 2005
Genre: Sports
Version: Japan
Players: 1-4
Like the name hints, it is an updated version of Smash Hit.It features more than 40 characters from the manga, each playable character will have his own unique special moves. In addition to tennis, there are a couple of bonus games included, such as bowling.
This game also has an extra DVD featuring 2 minute special of the Seigaku Regulars being interviewed by Gekkan Pro Tennis's Saori Shiba.
Gallery
Community content is available under
CC-BY-SA
unless otherwise noted.