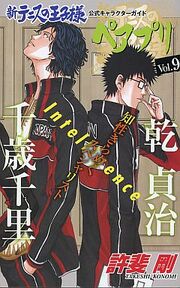 Pairpuri Volume 9
is the ninth pairpuri volume for the New Prince of Tennis franchise. This volume is called
Inui X Chitose INTELLIGENCE
.
Special Insert
PairPuri 5 smash post cards 4
Manga
Private no Oujisama Jitaku 16 The Tragedy of Rikkaidai Fuzoku
Houkago no Oujisama Pairpuri version
Private no Oujisama Jitaku 17 Thinking For His Little Sister
Hanipuri Theater Training Camp Off-Time Morning Version
Hanipuri Theater Training Camp Off-Time Night Version
Interview
PairPuri Cross Talk
Tsuda Kenjirou x Oosuka Jun
Konomi Takeshi Interview idea sketch 8
Konomi Takeshi's Secret Talk on Inui and Chitose!!
Special Project
U-17 Camp Popularity Spot Best 5
Special 1
PairPuri Profiling
Intelligence
Profile
History
Play Style
School Life
Inui x Chitose Wonder Talk
Looking at Comebacks from Setbacks with Inui and Chitose
Looking at Connections from the Past with Inui and Chitose
Words for the two. One line comments from characters who have interacted with Inui or Chitose!
Special 2
Gekkan Pro Tennis Special Edition YOUNG SMASH!!
Side Tennis. Special Edition on Personal Training!!
Side Private. Special Edition on Charm Points!!
Revealing club notebooks to the public!! (Rikkai version)
High School Players
Training Camp Facilities Guide
Training Camp News! The Players' (Secret) Witness Talk
Right now, those players are...!?
Personality Analysis / 50.....Compatibility Analysis
Krauser and Kirihara's Simple English Lecture Corner
Connecting to Tenipuri fans in the reader corner
Preview
Community content is available under
CC-BY-SA
unless otherwise noted.