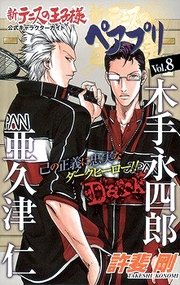 Pairpuri Volume 8 is the eighth pairpuri volume for the New Prince of Tennis franchise. This volume is called Kite X Akutsu DARK.
Special Insert
PairPuri 5 smash post cards 3
Manga
Private no Oujisama Jitaku 14 Held back in the Sugarcane Field
Houkago no Oujisama Pairpuri version
Private no Oujisama Jitaku 15 Written Invitation
Hanipuri Theater Prince of Pillow-Throwing Floor 2
Hanipuri Theater Prince of Pillow-Throwing Floor 1
Interview
PairPuri Cross Talk
Special Project
U-17 Camp 1st Division Return Commemoration, Revealing the 1st Division Player List!!
Special 1
PairPuri Profiling
Dark
Profile
History
Play Style
School Life
Akutsu x Kite Winning Without Fighting Talk
Akutsu and Kite's look into physical ability
Akutsu and Kite's look into bad behaviors
Words for the two. One line comments from characters who have interacted with Akutsu or Kite!
Special 2
Gekkan Pro Tennis Special Edition YOUNG SMASH!!
Side Tennis. Let's hear from the vice captains!!
Side Private. Special Edition on middle schoolers and high schoolers' favorite types!!
Revealing club notebooks to the public!! (Shitenhouji version)
High School Players & Coach guide
Training Camp Design Guide
The Players' Secrets!? Witness Talk
Right now, those players are...!?
The Perfect Training Camp Room For You!! / Results Side
Yukimura and Ootori's Oekaki Lecture
Connecting to Tenipuri fans in the reader corner
Preview
Gallery
Community content is available under
CC-BY-SA
unless otherwise noted.