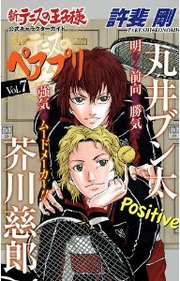 Pair Puri Volume 7 is the seventh pairpuri volume for the New Prince of Tennis franchise. This volume is called Jirou X Marui POSITIVE.
Special Insert
PairPuri 5 smash post cards 2
Manga
Private no Oujisama" Jitaku 12 Jackal's Worries
Houkago no Oujisama Pairpuri version
Private no Oujisama Jitaku 13 The Usual Morning
Hanipuri Theater Winning Team Off-Time
Hanipuri Theater Losing Team Off-Time
Interview
PairPuri Split Step Talk
Takeshi Konomi Interview (Idea sketch 6)
Konomi Takeshi's Secret Talk on Jirou and Marui!!
Special Project
Revealing the 2011 Valentine Chocolate Ranking #11-50
Special 1
PairPuri Profiling
Positive
Profile
History
Play Style
School Life
Jirou x Marui Volley Talk
Examining volleys with Jirou and Marui
Examining Favorite Colors with Jirou and Marui
Words for the two. One line comments from characters who have interacted with Jirou or Marui!
Special 2
Gekkan Pro Tennis Special Edition YOUNG SMASH!!
Side Tennis. Special Edition Featuring Players Experienced With Other Sports!!
Side Private. Special Edition Featuring the Hobbies of Middle and High School Boys!!
Revealing club notebooks to the public!! (Seigaku version)
High School Player Guide
Training Camp Design Guide
At that time, they were!? Witness Talk
Right now, those players are...!?
Tenipuri Composition Analysis Part 1 / 50.....Part 2
Ibu and Hirakoba's Glossy Hair Maintenance Lecture
Connecting to Tenipuri fans in the reader corner
Preview
Trivia
This volume of Pair Puri is actually out of print.
Community content is available under
CC-BY-SA
unless otherwise noted.