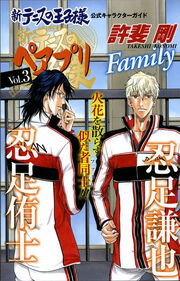 Pairpuri Volume 3
is the third pairpuri volume for the New Prince of Tennis franchise. This volume is called
Yuushi X Kenya FAMILY
.
Special Insert
PairPuri 5 rally post cards 3
Manga
Private no Oujisama" Jitaku 5 Shopping with the House of Oshitari
Houkago no Oujisama" Pairpuri version
Hanipuri Theater Fudomine
Hanipuri Theater Rokkaku
Interview
PairPuri Cross Talk
Kiuchi Hidenobu x Fukuyama Jun
Konomi Takeshi Interview
Konomi Takeshi's Secret Talk on Yuushi and Kenya
Jump SQ Connection Project
Shuffle Match Newest Ranking
Special 1
PairPuri Profiling
Profile
History
Play Style
School Life
Yuushi x Kenya Cousin Talk
Yuushi and Kenya's look into height and weight
Yuushi and Kenya's look into family relationships
Words for the two.One line comments from characters who have interacted with Yuushi or Kenya!
Special 2
Gekkan Pro Tennis Special Edition YOUNG SMASH!!
Side Tennis. Let's hear from those super rookies!!
Side School. Committee members special edition!!
High School Players Guide
Training Camp Design Guide
The Players' Secrets!? Witness Talk
Right now, those players are...!?
Compatibility fortune telling
Brilliant Cactus Lecture with Fuji
Connecting to Tenipuri fans in the reader corner
Next volume preview
Community content is available under
CC-BY-SA
unless otherwise noted.