Tennis Matches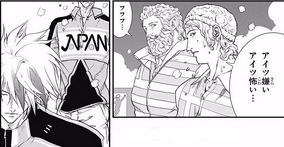 Type
Group League
Participants
Ochi/Oishi vs Heracles/Evangelos
Final Score
7-5
Japan's first opponent in the Group League of the U-17 World Cup is Greece! Up first are the Mental Assassin, Ochi, and Seigaku's doubles specialist, Oishi. However, Oishi's nervousness is evident as he accidentally takes a broom with him onto the court instead of his racket...
0-0 ~ 4-4
Greece's 3rd year high school rep Heracles serves first and aces Oishi right off the bat. Team Greece even manages to seal Oishi's trump card, Moon Volley, and with the Seigaku vice-captain unable to get into the match, Greece easily takes the first game. Ochi quickly retaliates with his pro level Mach serve and evens up the score with four aces. Both the Greek middle schooler, Evangelus, and Oishi keep serve by utilizing their partners.
4-4 ~ 6-5
The two teams are in a stalemate and both Heracles and Ochi unveil their full strength in an attempt to seize the flow of the match. Ochi even warns Oishi to keep his eyes closed during the exchange. Both of high schoolers manage to hold serve once more, however, Ochi's aim becomes evident once Evangelus serves at 5-5. Unable to withstand the mental assassination Ochi applied during the previous games, he hits consecutive double faults, allowing Oishi and Japan to serve for the match.
6-5 ~ 7-5
Oishi hits the first serve and once again closes his eyes. A split-second later, however, he gets blown away by Heracles' powerful return and falls to the ground. Against all expectations and despite being badly injured, Oishi continues the match. This resolve combined with Heracles' gentle nature finally also puts pressure on the Greek high schooler and, after a series of unforced errors, Japan takes the opening match.
Community content is available under
CC-BY-SA
unless otherwise noted.