Harukaze Kurobane
Kanji

黒羽春風

Rōmaji

Kurobane Harukaze

Nicknames

Bane-san
Bane-chan

Characteristics

Gender

Male

Age

14 (The Prince of Tennis)
15 (The New Prince of Tennis)

Height

184cm

Weight

73kg

Birthday

September 29

Horoscope

Libra

Blood Type

A

Family

Father
Mother
Younger Brother

Education

Junior High

Rokkaku Junior High (3rd Year)

Class

3-A

Club Position

Regular

Japan U-17 Camp

Court 2

Tennis

Dominant Arm

Right

Play Style

Serve and Volley

Doubles Partner(s)
Racquet(s)

Made by Ojī

Media

Movies
Voice Actor

Kazehiro Oguro (Japanese)
Harukaze Kurobane (黒羽 春風, Kurobane Harukaze), or Bane-chan, is a very strong player with deep responsibility in everything that he does. Despite being a rough-looking player, he is very close to the kids who play around Rokkaku's playground and look after each in a brotherly fashion. Of course, he also looks after his kōhai (opposite of senpai),Hikaru Amane, whenever the latter gives stupid puns, and he cannot help himself but hit the guy as punishment.
Appearance
Kurobane has brown wavy hair that is styled in an upwards direction. He is alss has dark brown eyes and is fairly tall. His looks are fairly dull compared to some of his team members.
Personality
Kurobane has a very unique relationship with his doubles partner, Amane "David" Hikaru. David is a punster, but each of his attempts is followed by Kurobane's physical attack (usually a kick to the middle body).
Aside from controlling his partners horrible puns Kurobane has a fairly normal personality. He is very friendly to children though despite his looks.
History
Regionals
During the Kantō semifinals, Bane and David failed to capitalize on their 5-0 lead and lost the match in the tiebreaker.
Nationals
Bane and Rokkaku are knocked out in the first round by Higa Middle School.
U-17 Camp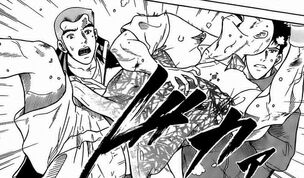 Kurobane and several other Middle Schoolers received invitations to the U-17 Training Camp camp along with several other middle schoolers. While there, upon arriving, the Head Coach declares all those without a Tennis ball must go home and leave the camp after having a helicopter drop 200 balls. Kurobane and the rest of the 50 Middle Schoolers effortlessly retrieve a ball.
He watches as his fellow Middle Schoolers annihilate the weaker High Schoolers from the 10th Court and below who challenged them for the balls they obtained.
The Mental Coach arrives asking the Middle Schoolers to pair up. He then suddenly requests they play tie-break matches where the loser must leave the camp.
Tennis Record
Official Middle School Tournaments
Playing Style and Techniques
Bane plays Power Tennis and even returned Kawamura Takashi's Hadōkyū with a one-handed backhand.
A power serve that involves pronating Bane's arm. It had so much power that it actually knocked Kawamura down.
U-17 Camp Stats
Speed: 3
Technique: 3
Mental: 3
Stamina: 3
Power: 4
Personal Information
Trivia
References