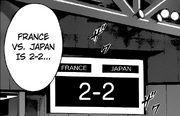 Two years prior to the storyline, France and Japan were playing against each other in the Group League, presumably. This event was a flashback event that takes place in Golden Age 146: Tacit Consent.
Two Years Prior to the Storyline
Paris, France was the host of the U-17 World Cup. At some stage, France and Japan were pitted against each other. Before the match, Duke Watanabe was walking the streets with his younger sister Chloe Watanabe.
Chloe buys some food but the store's roof collapses and Byoodin saves her life although injuring himself in the process.
After this incident, the French and Jaanese team meet at the match. The score is two-all. Singles 1 will decide who will make it to the next round. Duke is waiting at the court for his opponent, only to realise its the man who saved his sister's life.
Although injured, Byodoin still plays the match but loses. Japan loses their chance to move onto the next round.
After the match, Duke, grateful to Byodoin, joins the Japanese team.
Matches
Singles 1: Byodoin vs Duke
Singles 2: Unknown
Singles 3: Unknown
Doubles 1: Unknown
Doubles 2: Unknown
Current Year
Japan will play France once again in the current year. The Japanese team consists of Ryoma Echizen, Genichirō Sanada, Kuranosuke Shiraishi, Renji Yanagi, Ikuto Kimijima, Jusaburō Mōri, and Duke Watanabe. Duke has been confirmed to be playing in singles 1.
Matches
Community content is available under
CC-BY-SA
unless otherwise noted.